Have Pipe Organ. Will Record.
Kelvin has produced many recordings, especially since the rebuild of 2019-2020. Some of these are available on CD, and many more are available for download on this site.
Recordings for Download
The Organ at the Pied Piper of Paris.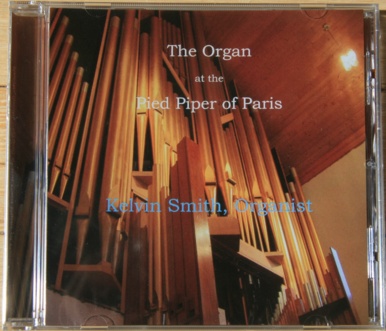 Kelvin Smith recorded this CD in the summer of 2020, with a repetoire chosen to demonstrate the variety of tonal resources of his residence organ, which at the time included 70 ranks and about 4,200 pipes. It is named after Bed and Breakfast that Kelvin and Sharon operated in their house.
Order your copy now for $19.38, including postage. Make sure your mailing address is included in PayPal. This only ships to address in the United States because of copyright restrictions. International users are welcome to download individual tracks. The Flor Peters is used by permission of C. F. Peters, and is only available on the CD.
1. J.S. Bach: Toccata and Fugue in D Minor, BWV 565
2. J.S. Bach: Jesu, Joy of Man's Desiring
3. J.S. Bach: "Air on the G String"
4. J.S. Bach: Sheep May Safely Graze
5. J.S. Bach: O Mensch, bewein' dein' Sunde Gross
6. J.S. Bach: Fugue in G Minor
7. Jeremiah Clarke: The Prince of Denmark's March
8. Robert Cundick: Recessional
9-11: Felix Mendelssohn: Sonata #2 in F Minor
9: Allegro moderato e serioso
10: &nbspAdagio
11: Allegro assai vivace
12: Marcel Dupre: Cortege et Litanie
13: Kelvin Smith: For the Beauty of the Earth
14: Kelvin Smith: Sweet Hour of Prayer
15: Flor Peeters: How Brightly Shines the Morning Star
16: John Philips Sousa: Stars and Stripes Forever
17: Charles Marie Widor: Andante Cantabile from 4th Symphony
18: Eugene Gigout: Toccata in B Minor
The Trio Sonatas of Johann Sebastian Bach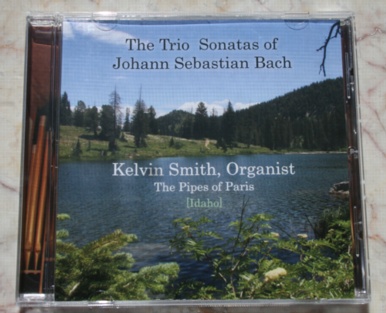 In April of 2021 Kelvin completed the recording of all six of Bach's six inventive and playful sonatas, called the Trio Sonatas, because they are written in three voices, for right hand, left hand and pedal, each to be played on contrasting stops on different keyboards. Each comprises three movements, and with an abundance of characteristics stops, these eighteen movements showcase eighteen different combinations of sounds, going through 37 ranks in all.
Trio Sonata #1 in Eb Major, BWV 525
1. [Allegro Moderato]
2. Adagio
3. Allegro
Trio Sonata #2 in C Minor, BWV 526
4. Vivace
5. Largo
6. Allegro
Trio Sonata #3 in D Minor, BWV 527
7. Andante
8. Adagio e Dolce
9. Vivace
Trio Sonata #4 in E Minor, BWV 528
10. Adagio-Vivace
11. Andante
12. Un poco allegro
Trio Sonata #5 in C Major, BWV 529
13. Allegro
14. Largo
15. Allegro
Trio Sonata #6 in G Major, BWV 530
16. Vivace
17. Lento
18. Allegro